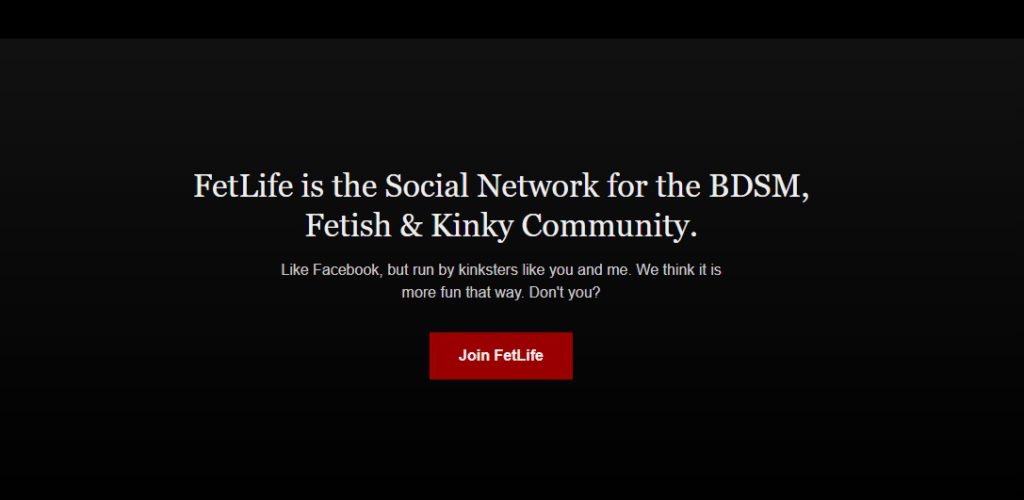 Summary
Fetlife.com is a social network for adults with various preferences. The site exists since 2008 and gathers users interested in different sexual fantasies. Whether you are into threesome or non-monogamy dating, you can find like-minded men and women.
Using this site is similar to using your social media account, as you can follow members and like their content. However, this might not be convenient if you are looking to find couples for quick hookups. The site does offer many options, but people with a busy lifestyle might not have enough time to engage and participate in group discussions. Keep in mind that this isn't a site driven by an algorithm like other dating sites. It is up to you to do the search and find swingers through the groups. If you are looking for a more straightforward experience, stick with some other dating sites.
Also, many users have complained about the site's design. The site is easy to use, but the interface consists of dark colors. This isn't appealing to the eye, and you might struggle to read the text.
Users
Fetlife.com has over eight million members from all over the world. People are discovering their sexual fantasies and want to try something new, so expectedly this number will rise. More than half of the users are from the US. However, only ¼ of the total users are women. Men might feel like they need to fight for fewer women users. Most members belong in the age group of 25-34, which means that most of them are young adults that want to explore new things in bed. Members older than 35 years might find it challenging to meet swingers of the same age. As a community member, you can choose to actively participate in group discussions or read the comments only.
Profile Quality
Fetlife.com allows you to fill out a few sections, so that other swingers will know your preference. There is a section where you can write a short bio and express your wishes when it comes to polyamorous dating. Many users are interested in a threesome, so be clear about your requirements to land the right match. Also, you can add your relationship with another account. As a couple, you can fill this section so that other swingers will check profiles and know what to expect from you both. However, completing personal information isn't mandatory so expect to see lots of blank profiles.
Free Account
Fetlife.com is available for free accounts with a limited range of services. You can view photos, join interest groups, and send messages to users. This site does offer a wide range of features, but you lack a search tool to find like-minded members. That's why many swingers prefer to use specialized dating sites to find like-minded couples.
Premium Extras
Premium membership allows you to check the most liked photos on Fetlife.com and get a special badge on your profile. When you browse the friends feed, you can go back 25 times. Also, you can access the photos and videos that you liked. Also, premium members will have an option to tailor their feed to their needs. These members will be the first ones that can experience new features released by the site.
Costs and Discounts
Fetlife.com doesn't have a specific monthly price. However, you can choose to support the site for at least six months. Premium membership will cost $5 monthly for a minimum of 6 month period if you want to expand the list of features available. You can also pay $240 and have a lifetime premium membership, in case you plan to stick for long with the site to find swingers.
How to Use Fetlife.com for poly dating
Sign up and create your account. You will be required to enter your phone number so that they will send a verification code.
Enter some personal information to customize your profile. Add your partner as a friend and set publish the type of relationship with them. This way, other couples can get to know you better.
Add your specific kinks. There are over 60 fetishes to choose from, so you can find the right ones. Based on this, the site will suggest members and groups that share the same interest.
Browse group discussion, check profiles, and find members interested in non-monogamy dating.
This site works as a social network that gathers people with different fetishes and kinks. You can browse photos, videos, and blogs with explicit content.
Find members that are interested in polyamorous dating. This site doesn't have an advanced algorithm that connects you with swingers. Instead, you need to do the search and find them yourself. Check different groups, join non-monogamy related discussions, and add members that openly discuss that they are swingers. Check the info on the user profile to make sure that they are interested in switching partners before reaching out to someone.
Add the member as a friend to be able to send them messages. The process is pretty straightforward from here, as it is the same as sending them an email. Follow updates from your friends on the feed, which is the same as the social media feed. You can like their content from there too.
Communicate, exchange messages, photos, and find out if you are the right fit. Swingers that meet other swingers online usually meet in person and go for a date to see if their chemistry matches.
Frequently Asked Questions