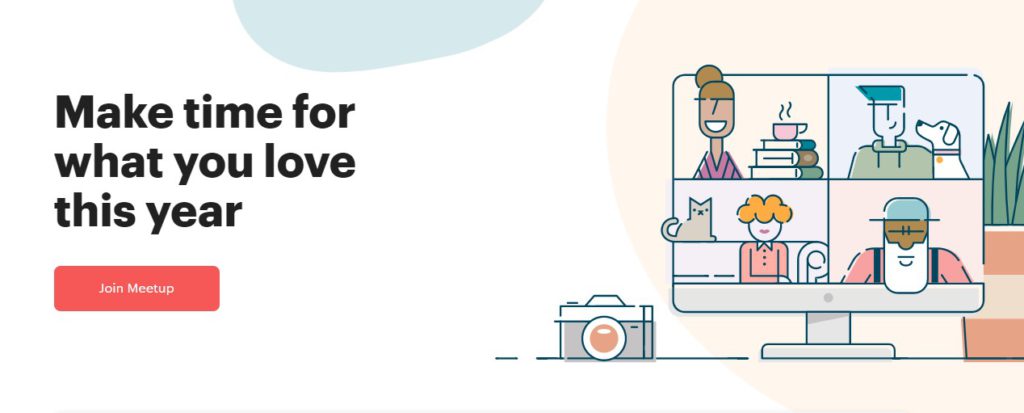 Summary
While dating is one of the popular topics on Meetup.com, this isn't a site solely dedicated to dating. It is a site that allows meeting people with similar interests or hobbies. Join groups or attend organized events for like-minded people. There are fewer groups dedicated to non-monogamy, but they don't promise much since the site isn't wholly oriented towards dating. Even if you want to start your group and organize events, you need to pay a premium membership to do that. Overall, Meet might not be the best option if you want to find women or men for poly dating. Meet doesn't give you an option to search profiles by the advanced filter. Also, the profiles lack basic information, so you don't know if a member is interested in dating or not.
Users
Meetup.com user base mostly consists of male members, so there are fewer women. Most of the members belong in the age group of 25-34, so the site is suitable for young people. If you are a poly couple that doesn't belong in this age group, the lack of appropriate users will narrow down your options. Most of the members are from the US, UK, Canada, and Germany. They are highly active, with over 54,000 active members per week.
Profile Quality
The profiles on meetup.com don't have detailed information about the member. You can only see necessary information, such as location, username, and photo. You can only check the groups that they have started and joined and judge based on them. Another downside is that their profiles aren't monitored by staff. Not having control over the users means that you can come across fake profiles. You need to be careful who you send messages to. When it comes to profile quality on meetup for swingers, it is difficult to tell about the member's interests and preferences. Most people come here to expand their social circle and find friends, which isn't convenient for poly couples who want to find other couples for dating.
Free Account
Meetup.com offers an option to create a free account for swingers meet up. You can register for free, but also join groups and find non-monogamy events. The search feature allows you to set the maximum distance so that you can find local members. A free account also enables you to send messages to other members. If you want to attend an event, you need to pay a certain fee determined by the organizer.
Premium Extras
Meetup.com has an option for a premium membership if you want to enjoy some extra features. When you want to be an organizer on meetup for swingers, you need to pay. A paid account on meetup.com will allow you to start a maximum of three groups. You can manage your groups any way you want and promote them. When it comes to organizing events, you can easily schedule them and set appropriate fees. In case you can't find a suitable group on meetup for swingers, you can start your own. However, you are still limited to only three per member, even when you choose a premium account.
Costs and Discounts
Meetup.com offers two options when it comes to premium membership: 1 month and six months of membership. One month will cost $23.99, which is a good option if you don't know how long you want to stick with the site. A six-month membership costs $16.49 per month, with a total of $98.94 for the whole period. However, note that these prices are for members from the US, UK, Canada, and Australia. Other countries will pay $14.99 for a one-month subscription. 6- month premium membership will cost $9.99 per month and a total of $59.94. However, if you want to visit swingers meet up events, you need to pay an applicable fee.
How to Use Meetup.com for poly dating
Join meetup.com and create a profile. To build up your profile, you can add a photo and a short bio, although the bio isn't mandatory. However, it will help others get to know more about your non-monogamy dating preferences.
To find the suitable groups connected to poly dating, click on the search box. The site will show you several suggestions, but you can choose to type in specific keywords. Type in poly, non-monogamy, or swingers, as essential keywords to start your search. There is an option to set the desired distance from your location if you want to access local events that aren't too far.
A list of matching groups will then appear on the screen. The first suggestions will be tightly connected to your specific interest, but keep scrolling to see related non-monogamy groups. Some groups are made for a particular age group, so be sure to check for this too. This way, it is more likely to meet people of your age that share the same interest.
Check the number of members before joining. Since poly groups are narrow, you can expect for groups to have fewer members. Large groups with general interests are very active, but you might not find like-minded members interested in non-monogamy dating. Small groups gather people with specific interests, so you are likely to find couples interested in poly dating.
Attend the group events you like. Keep in mind that it is up to you if you want to say or leave. If you don't like the vibe, leave at any moment.
Frequently Asked Questions