Interests in non-monogamy relationships are increasingly becoming popular, especially among young adults. In relationships, one partner may be polyamorous while the other is not.
#Open website gives such individuals an elegant platform that is relatively easy to join. Users get a chance to try different types of open relationships. If you are out to have this kind of fun, signing up on this site would do you good.
Summary
Daters can easily find this tool because it is available to both android and iOS users globally on the Apple store and Google Play Store. While the website is entirely free to all members, it offers a very detailed signup form. Even though the website's design is not reasonably responsive, it has a very sleek design.
This platform takes policy violations very seriously; and has set up ways to ensure that it is entirely secure. For instance, one can use the block feature to keep away specific users. The #Open platform has a similar matching system to Tinder.
Again, it allows users to search other members and browse their profiles. Interestingly, Hashtag Open appeals to individuals across diverse sexual orientations.
Users
New users are free to join Hashtag Open, whether as a couple or individual. It currently has more than 40 000 users. #Open welcomes people from different ethnic grounds and ages. Users on this platform have different desires, fantasies, and fetishes. While most are out to seek hookups, a few are looking for love and serious commitments.
The ratio of men to women on the website is not definite. However, the number is somewhat balanced, with most members being young adults. Moreover, the average age of members on this website is around 28 years.
Profile Quality
Hashtag Open has a very comprehensive profile as it requires members to provide substantial details on signup. You can identify yourself with many hashtags on the platform. For instance, under sexual orientations, one can choose from more than 20 options. The profile gives a thorough description of the person you are looking to meet.
Notably, most of the profiles do not have photos. However, the name and age of the user are on display. These are the most significant details when one is searching for a match on the platform. If you're not sure about what you are looking for onsite, you may be spoilt of choice.
Identifying a perfect match is paramount, especially if you dream of a partner who shares your kind of fantasies.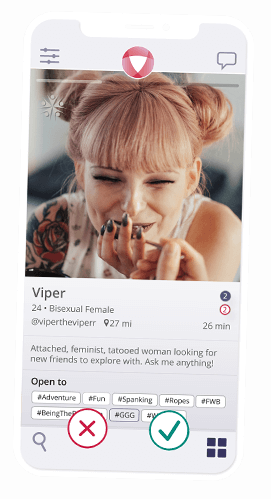 Free Account on Hashtagopen.com
Hashtag Open is an entirely free platform. Anyone can register on the website for free from anywhere across the globe. While #Open aims to match non-monogamous individuals, it does not charge for using its features. Similarly, it lacks any in-app purchases like other notable websites. It does not have any subscription packages, and thus, sending messages to members comes at no extra cost.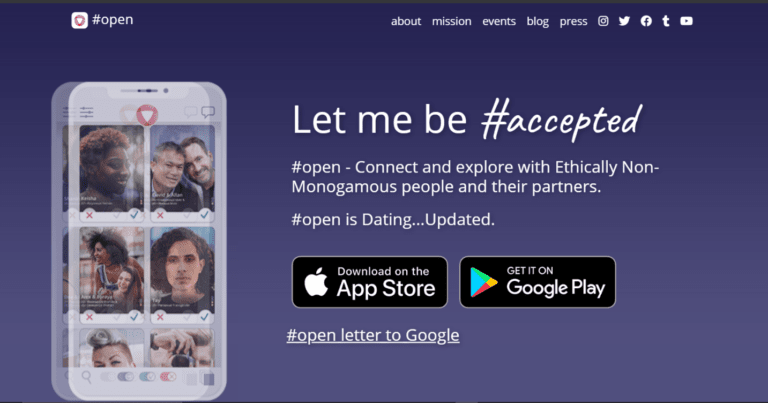 Premium Extras
Premium users enjoy the same privileges as free membership users. Since the website is entirely free for everyone willing to join, there are no premium extras. #Open does not require its users to part with any money to access its features, such as sending gifts and messages.
Costs and Discounts
Hashtag Open is one of the best websites for anyone looking to date online and has no money to spend. This website offers its services via an app and costs you nothing to use. All one has to do is go to the Google Play Store or Apple store for iPhone users and download the application.
At the moment, the website does not offer any discounts for its platform services or for downloading the application. Hashtag Open is, therefore, ideal for daters who want to experience fun and excitement dating like-minded polyamorous singles and couples. Surprisingly, this site does not have any premium member's package, so there are no special discountable features. The website is totally free.
How to Use #Open
If you are looking for a platform to serve your polyamorous needs, then hashtag open is the go-to place. The website has a location filter option that allows users to meet singles within their location. It is significant to daters who want to meet people locally. There are various ways to express yourself on the platform. First, you can send messages to other users and even invite someone for a chat.
You can also send virtual gifts to members you find interesting. If you find a member less exciting or annoying, you can easily block them. It is especially true for people who send you irritating messages or people sending spammy invitations.
FAQ
Conclusion
This site is for polyamorous and open individuals, which accounts for a small population of online daters. However, if you know what you want, finding a suitable match is seamless. All you have to do is fill in the form completely as per your preferences, and you'll be a step closer to finding a suitable partner or couple.
If you are new to online dating, it will be easy to find your way around the site. There are indeed real couples looking to meet singles for a polyamorous encounter.