Here on BestPolyDating.com, we strive to create accurate, up-to-date, and reliable online dating site reviews of your favorite dating platforms and those you've yet to hear of. We have a growing team of dating professionals working around the clock to bring you reviews that you can trust, so you never need to waste any time or effort on dating sites not certain to improve your overall dating prospects.
Here is our PinkCupid review!
Summary
PinkCupid.com is an online dating site is a dating site for lesbian and bi-curious women looking to find love online, offering a free to download mobile app to take your singles search with you, never missing a chance to find a connection. Women prioritize finding long-term relationship partners other flash in the pan romances, and real effort and care are taken by members to broaden their dating horizons.
When compared to other lesbian dating sites, a limited set of free special features are available to users. The features currently available at no cost on PinkCupid are:
Glam Photo Competition – Once a month, all users have the option to upload one especially glamourous photo of themselves, with the winner receiving a 3-month premium membership. Second place in the competition is granted a 1-month membership subscription. Winners of the competition are drawn on the 8th, every month.
CupidTags – Add hashtags to your online dating profile; these can be about a physical characterisitc, personal trait, or a hobby of yours.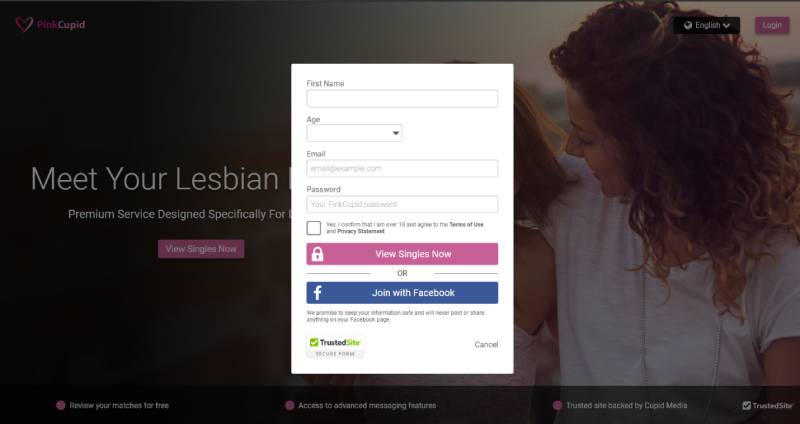 Users
As PinkCupid is a lesbian dating site, all users here are strictly female. PinkCupid has over 1,000,000 users signed up worldwide so far, with the membership count growing by between 75,000 – 100,000 new users each quarter.
Each month, the PinkCupid dating site registers over 350,000 hits from users; this shows us that the platform is very active with women looking for love, making becoming a member a viable use of time. The most popular age range of users is the 25-34 age range, followed closely by the 18-24 age range. Overall, age groups are quite diversified, providing ample opportunities for everyone.
Profile Quality
As with all of the CupidMedia sites, the profiles of users here on PinkCupid are extremely detailed, containing a plethora of information relating to a truly broad range of areas. As this is a site with serious women looking for lasting personal connections, we can expect users to take the time to create information-rich profiles.
Users can assess overall compatibility with any given user simply by visiting their online profile and studying their responses; this makes it super-easy to avoid and mismatches and allows people to concentrate their attentions on rewarding dating avenues with like-minded people.
Free Account on PinkCupid
Applying to become a member on PinkCupid is a longer process than on other online dating sites, with the whole process taking users between 8-15 minutes on average. The increased time to join is down to the many questions asked to create a profile rather than lengthy security checks.
All users must upload a Valid ID prior to having access to their complete dating profiles and permissions; this is to ensure each user is old enough to use a dating site and to verify users are who they claim to be. These basic security checks all a safe and secure online dating platform where all users known exactly who they're chatting with online.
Users on free accounts are granted the following permissions once the confirmation process is complete:
Upload Images to Dating Profile
Basic Matching
Send Interests
Communication with Premium Members
For unlimited communications online, a premium subscription is required.
Premium Extras
PinkCupid.com offers premium users a whole host of additional benefits, so it may be worth thinking about an upgrade, especially if you want to maximize your dating avenues with non-paying PinkCupid members.
The features available to premium users are:
Communicate with All Members
No Ads
Hide Dating Profile and Browse Anonymously
Higher Ranking in Search
Double Profile Space
In-Depth Search Filters
Advanced Matching
Costs and Discounts
Two types of membership packages are available to women using PinkCupid.
The costs for each membership are as follows:
Gold
1 Month Membership – $34.99
3 Months Membership – $69.99
12 Months Membership – $149.99
Platinum
1 Month Membership – $39.99
3 Months Membership – $79.99
12 Months Membership – $164.99
The difference between gold and platinum memberships are the difference between only having access to all communication features on PinkCupid, whereas, for the full experience, the platinum membership price needs to be paid.
How to Use PinkCupid for Poly Dating
The women found on PinkCupid are surprisingly open to trying new dating possibilities if they get to secure your time and attention too. This opens the door for women who like to find poly dating situations online. The women on PinkCupid are much more open than you'd ever meet on traditional dating sites, making this site the perfect place to meet women with similar poly dating interests.
To maximize your chances of finding partners for poly dating, state your sexual interests in your online profile when you're asked during creating your account. It's much better for prospective long-term partners to find out your desires sooner than later; otherwise, intimate relationship quickly begins to breakdown.
FAQ
Is PinkCupid Safe for Me to Use?
Yes, PinkCupid is arguably the safest lesbian dating platform of all due to the strict ID checks imposed when a user first creates a profile.
How Many Members Does PinkCupid Have?
PinkCupid has over 1,000,000 user-profiles and counting.
How to Use PinkCupid for Maximum Success?
For the most success on PinkCupid, we strongly recommend not skipping any areas of information when creating a profile. The more information available, the higher the chances women make the first move and send a message.