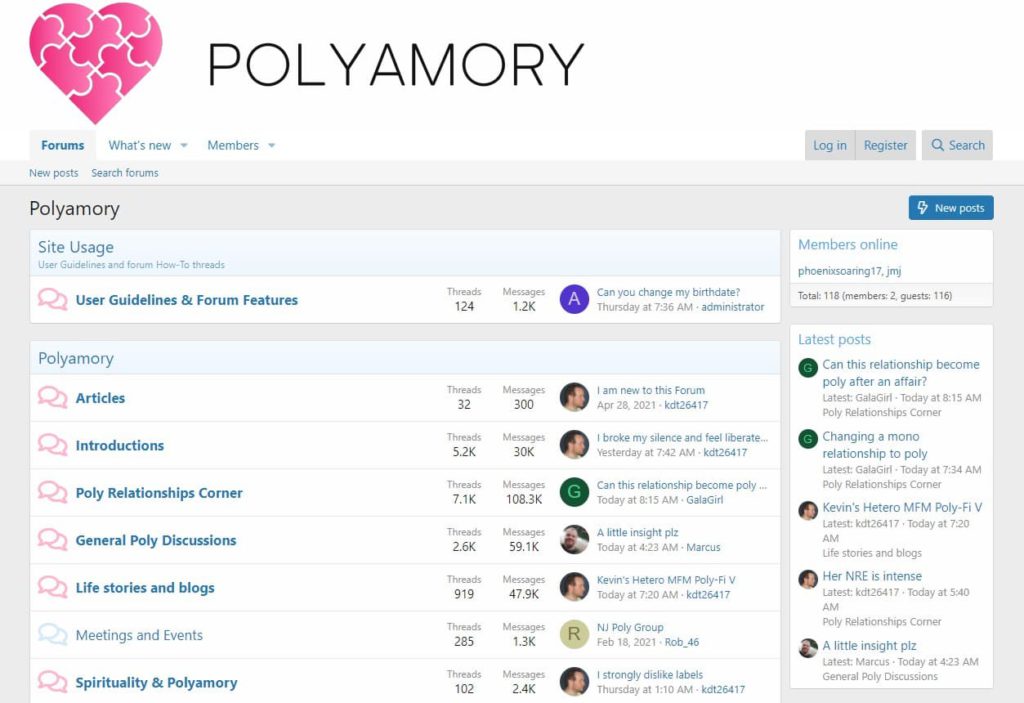 Several men and women are now looking for new polyamorous relationships to lead exciting dating lives that are not limited to one partner. If you wonder whether Polyamory.com is the right platform for this, explore our detailed review of the site to decide if it's right for you.
Summary
Polyamory.com is a forum-based dating site that lets singles looking for open relationships interact with one another. Users can create an account and introduce themselves to the poly community, find friendships or dates with like-minded people by posting their requirements, waiting for other forum members to respond, or simply sharing their poly experiences and life stories.
Number of members
: 11,000+
Forum Threads:
20,000
Number of Messages:
290,000
Popular Regions:
North America, Europe and Asia
Ideal for:
Young Adults
Users
The polyamorous dating site has over 11,000 members. Most of these are young users from North America, followed by Europe. There are also some users from Asia. The user base is polyamorous or poly-curious and comes from all sexual orientations. The Polyamorous app has users looking for different experiences. Some could be looking for relationships and dating, while others simply share stories of their experiences. They can browse profiles, talk to others, ask questions if they are new to the experience, are curious, or even just read articles on polyamorous dating.
Profile Quality
The Polyamory app and website are essentially a forum and therefore do not contain traditional user profiles. Our Polyamory review found that new users post a new thread in the section called 'Introductions,' where they let others know who they are, what they are looking for in a polyamorous relationship, and the kind of experiences that they are looking for. Others can then respond to them. Profiles on Polyamory.com do not contain any personal information. They display:
A small bio
The person's occupation
City and state
Joining date
Online status/Last seen online time
Activity on the forum
Users that they follow
General interests
Free Account on Polyamory.com
Our review found that the Polyamory app, along with the forum website, is free to use. Users simply have to sign up with their email and choose a username, and they are all set to post and interact with other members! All sorts of dating, relationships, and communication are allowed for free. Anyone is allowed to use the polyamory dating and communication service as long as they are over 18 and follow the terms of service laid out by the moderators. Users can be blocked based on hateful or offensive content or if they reveal another member's personal information.
Premium Extras
Polyamory.com does not provide any premium membership or services, which is often noted in negative reviews. Anyone can sign up and use the service for free, though all content is moderated. The only way members can stand out is by being regular posters. The Polyamory app has a section of 'Notable Members,' which displays users' profiles with the most messages, most reactions, and most points. Members can navigate their way to these users' profiles and see all of their posts on the forum.
Costs and Discounts
Polyamory.com does not require users to sign up for paid memberships. Since it is free for all, there are no costs or discounts. Polyamory reviews often rank the website low for this reason since anyone can use it. People worldwide are free to sign up, and all that is needed is an email and a simple human verification.
How to Use Polyamory.com
The Polyamory app and website are a straightforward forum that allows members to engage in conversation freely.
Sign up using an email address and decide on a username
Add a small profile bio, occupation, and your city/state
Once you are on the site, you are free to browse the thousands of forum threads
Members can head over to the section of the site that interests them, e.g., 'Introductions' or 'Life Stories.'
If you are looking to meet someone, introduce yourself in a new thread and wait for people to reach out!
FAQ