There aren't many bi-sexual dating sites, let alone dedicated polyamorous dating websites, which makes PolyFinda stand out for that fact alone. Designed specifically to connect poly users with other poly users for serious relationships, this site provides niche services for a specific demographic, but is the service itself any good? Keep reading to find out!
Summary
Originally beginning as an online dating website, the current version of PolyFinda is only available on mobile devices. Fortunately, both iOS and Android devices are supported, so regardless of what device you're using you should be able to download & use PolyFinda without a hitch.
The service is designed specifically for polyamorous users (both individual and couples) and also caters to the LGBT community as well. This gives you a lot of options when searching for a potential match, although since the member base isn't as large as more mainstream services, you may struggle to find the "perfect" match nearby.
Overall, the service is fairly basic but does provide the essential matching, browsing, and messaging features commonly found on most dating services. However, navigating to the home page will also allow you to see events hosted by PolyFinda, as well as polyamorous support groups around the globe.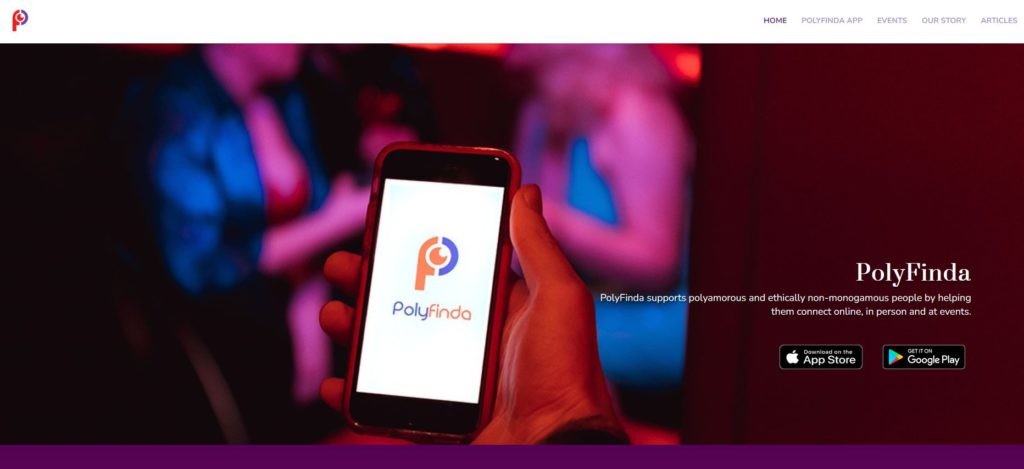 Get Ready to Know Multiple Polyamorous Users
The PolyFinda service itself hasn't released any member statistics so it's hard to determine specifics about its user base. The app is certainly smaller than more mainstream services: searching within 50 miles we only found about thirty users nearby! That said, this isn't necessarily a bad thing since niche sites are only intended to attract a niche audience.
The members themselves vary widely in age, with the vast majority ofsite'susers falling somewhere within the wide range of 18 to 45 years old. PolyFinda allows you to search through users using multiple search filters, one of which is age, so even if you're looking for an older person you shouldn't have too much trouble finding them.
Profile Quality
All of the personal information you provide during account creation on PolyFinda will be displayed on your profile page. As such, each profile contains relationship status, events (attending or organizing), "About Me," "What I'm looking for," body type, sexual orientation, preferred relationship style, "I Identify as," "Here to find," preferred partner age, and the user's location.
Any photos uploaded will also be displayed on the profile page as well. Although not as expansive as more in-depth services like Match.com, you'll definitely be able to learn enough about a potential match on PolyFinda to determine whether or not they're worth messaging simply from a glance at their personal profile.
Free Account on PolyFinda
Functionality as a free user on this platform is somewhat limiting. Unlike some services, you can view a member's entire profile for free, but you still can't message them without paying. One message costs one credit; as a bonus, this service will provide you with 20 free credits upon signing up!
After that though, you'll need to purchase additional credits (and you'll also need credits to add a user to your "Hotlist"). However, free users can see PolyFinda events posted under the "Events" section and also browse for local support groups under "Support Groups."
Premium Extras
Once you get a premium PolyFinda membership, the entire service becomes much more usable. The most obvious advantage is the ability to message other users: free users can purchase credits by themselves for a per-message chat ability, but a premium membership will allow unlimited online conversations.
Premium members here also enjoy an ad-free experience, add people to their "Hotlist" without paying for the privilege in credits, see who sent them a "Like," and even have access to the beta version of the video conversation feature! All in all, premium membership is a necessity for singles (or couples) serious about online dating on this platform.
Costs and Discounts
Beyond the first 20 credits you gain for free upon successful signup, there's no such thing as reduced pricing or discounts on PolyFinda. That said, it doesn't really matter very much because the service as a whole is very affordable. Purchasing standalone PolyFinda credits provides the worst value for money, costing $5.99 for only 250 credits.
This might be a good option for occasional users, but if you plan on using the app consistently, unlimited membership (which costs only $9.99 per month) provides a much better value. Membership is only available on a per-month basis; there aren't any extended PolyFinda plans available as of yet.
How to Use PolyFinda For Poly Dating
The best part about using this poly dating service is you won't need to weed through potential matches to find someone who shares in your lifestyle—everyone on the site is polyamorous! To join, you'll need to first download the app, which you can find by searching through your mobile device's app store or by clicking on the links at PolyFinda.com.
Signing up for PolyFinda only takes 5-10 minutes, depending on how much you decide to write in your profile and how detailed you would like to get. After you've completed the signup process, you can either use your 20 free credits to determine if a membership here is right for you (think of them as a short trial), or dive right in & purchase a premium membership from the get-go.
FAQ
Is PolyFinda Safe?
Like all online dating services, it pays to watch out for scammers and remain cautious when meeting someone offline for the first time. That said, the PolyFinda app as a whole is safe to use and even allows for a certain level of anonymity should you desire it.
How Many Members Does PolyFinda Have?
We're not sure. Statistics have yet to be released on this app, but the service has been downloaded over 10,000 times from the Google Play Store.
Can I Join PolyFinda for free?
Yes. Download the app onto your phone, follow the signup prompts, then determine whether you'd like to use the app as a free user or in premium mode.