Swingers Date Club commonly known as SDC appeals to a great majority of the online dating community. The site, which boasts over three million users globally, aims to give daters a platform to have pleasure and fun. Most members are residents of the US and Netherlands, where it operates.
Summary
Over one million SDC members come from the US. SDC has an app that is available to all Android and iOS users globally. Also, windows phone users can enjoy the app. The app has similar functions to the site and is more straightforward compared to the complete dating platform. While some people may find the SDC dark elegant, and the simple theme unappealing, the site is easy to navigate.
The site has both paid and free accounts. Additionally, our review shows that they have an extra business account available, but you have to contact the company first.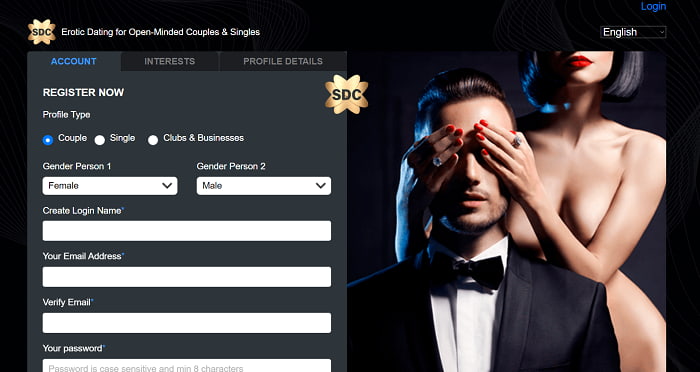 Users
SDC has many active members averaging 600,000 weekly users. The members are primarily between the ages of 18 and 55 years. Moreover, SDC is widespread across all ages. If you are looking to have fun and explore the site for other possibilities, then you are right where you belong.
The site offers pleasure and excitement to various individuals irrespective of their sexual preference and orientation. The swingers are of several types, from lesbian, gays to straight singles and couples. The gender proportion on SDC is not balanced with more males than females on the platform.
Profile Quality
SDC puts effort to ensure its users are authentic by authenticating profiles in detail using their monitoring systems. While it is undisputable that SDC is a legit dating site for singles seeking pleasure, you are still likely to come across fake profiles. However, the fake profiles on this site are very few; hence your chances of bumping into one are close to none.
SDC is quite strict regarding fake accounts and online scammers; they pride themselves as a safe platform. Also, the site review from reliable sources shows that it is easy to spot a fraudulent account.
Free Account on SDC.com
The free account, which lasts for only seven days, has many features that swingers can enjoy. Singles and couples can engage in speed dating events available on the site. Registering on the site is also free for all users. All SDC users using the free account can use the travel calendar to mark their traveling plans.
Also, membership on a free account allows you to use the invitation program on the site. SDC users can equally enjoy sharing photos, videos and adding images to their sign-in pages. Other free SDC services include getting notifications on new traveling offers.
Premium Extras
The site's paid membership includes monthly, quarterly, bi-annually, and annually. Members can enjoy various premium offers on the site. With fee-based service, a member can change their profile picture as well as contact other members. Additionally, you can access the webcam in the chatroom with a premium membership. SDC allows other users to validate you on the site as you equally validate them if you get the premium account.
Interestingly, as a premium user, you can post on their blog on swingers. It is worth mentioning that you can also see all available photos in user profiles. Revelers love this platform.
Costs and Discounts
The SDC membership rates are average; hence, they're neither too expensive nor too cheap. The monthly membership costs €29.95, which is more affordable if you go for quarterly payments of €19.98 monthly. Here's a breakdown of the plans and their pricing:
| | | |
| --- | --- | --- |
| Membership | Price | Amount |
| 1 Month | €29.95 per month | €29.95 |
| 3 Months | €19.98 per month | €59.95 |
| 6 Months | €16.66 per month | €99.95 |
| 12 Months | €12.50 per month | €149.95 |
When a user renews membership, the current existing charges will apply. The billing is automatic. As such, they are not responsible if you fail to turn off the recurring billing setting. Currently, they have a limited lifetime membership, a promo offer that goes for €250.00.
How to Use SDC
SDC does not allow you to contact other users on the free version account. Once you get a premium membership, you are on a roll to interact with whomever. You can contact members directly or in the chat rooms. The site also hosts events regularly, which increases the chances of meeting a perfect date.
One special feature that makes SDC unique is the validation feature. It allows users to validate each other, indicating their genuineness for the online community. This feature will enable others to find you. With SDC, you only need to be straightforward, and you will easily meet like-minded partners.
FAQ